A new report today shows that while black people make up less of 15% of the U.S.'s population, they are responsible for over half all exonerations.
Each spring, the National Registry of Exonerations publishes an annual report that documents trends in cases where individuals convicted of crimes were subsequently found guilty. Today's report examines the racial characteristics of 3,200 exonerations that the registry has recorded since 1989.
The registry took note of past annual reports that showed blacks were more likely than whites to be falsely convicted, and was able to exonerate them. The report examines decades of history and shows that innocent black Americans are seven-fold more likely to be falsely convicted than white Americans.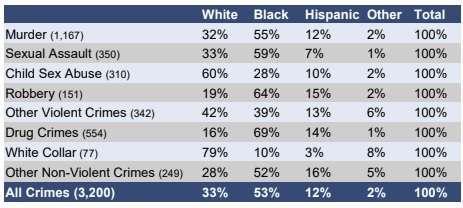 In some cases, such as white-collar crimes and child sexual abuse, a higher proportion of exonerations is given to white defendants. Except for white-collar crime, however, blacks are overrepresented in all other categories.
The reason why is dependent on the crime. It's not enough to just cry "racism", the report also explores the systemic issues. The report discusses murder in a way that doesn't shirk away from the…


More information can be found here