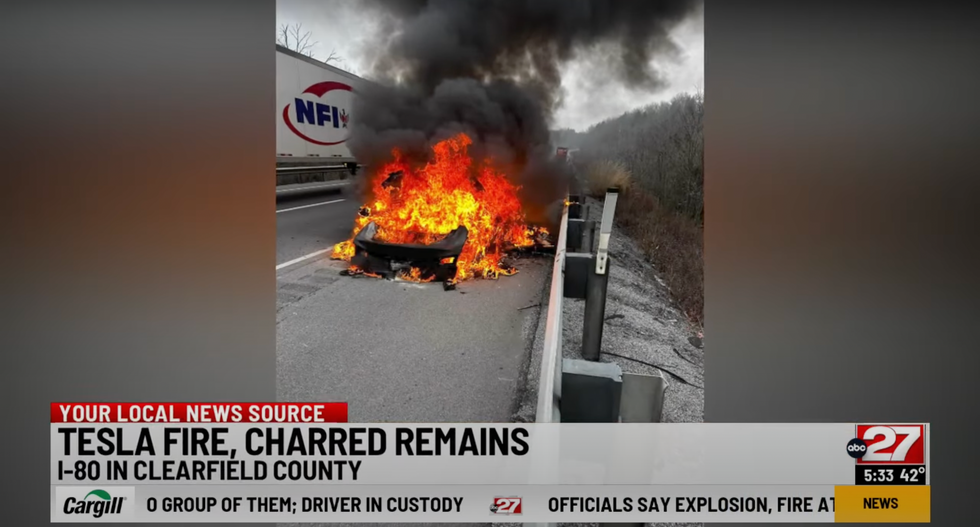 As a Tesla electric vehicle burned in Pennsylvania, firefighters used thousands of gallons water to fight the fires.
Morris Township Volunteer Fire Company #1 posted photos from the inferno, and the aftermath. It noted that approximately 12,000 gallons water was used.
"In total, approximately 12,000 Gallons of water were consumed. The fire company posted a Facebook message to give an idea of the severity. Crews can usually extinguish a vehicle fire with 500 gallons or less. The vehicle's lithium ion battery meant that it would take additional tankers to extinguish the fire. However, the vehicle would continue to burn intensely and reignite. It took nearly two hours to apply water to the vehicle. The battery would then start to reignite and retain high temperatures. The vehicle burned so hot and for so long, you wouldn't have known it was a car if it wasn't for its rims.
Additional fire departments were also involved in the emergency response.
Multiple tanker trucks were needed to cool the batteries after the fire was out. The Columbia Volunteer Fire Company posted on Facebook that this type of fire requires large amounts of water in order to ensure that the batteries do not ignite.
WTAJ reported…


More information can be found here