A 1978 orange LandCruiser fondly named the "mud crab" has travelled 7km across Darwin harbour's shipping channel while 30 metres underwater, in a feat that may have broken two world records.
It took a team of 30 more than 12 hours to get the job done, with commercial divers changing out of the driver's seat every 15 minutes due to the underwater pressure.
After entering the harbour via the Mandorah boat ramp at 9am on Saturday, they faced almost a dozen boggings and dealt with the threat of crocodiles and pipelines to navigate the waterproof electric four-wheel drive to nearby Mindil beach.
"I was stressing out a bit," the project lead Tommy Lawrence said. "We had heaps of problems, certain sections of harbour were so muddy and silty we sank like a rock.
"We were bogging, winching, towing – all part of a four-wheel drive adventure but 30 metres underwater."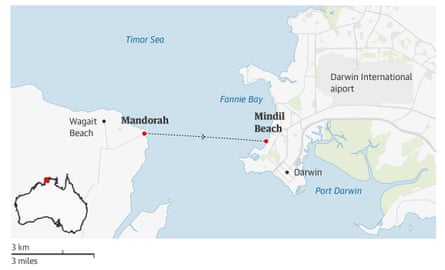 Around 9pm, five hours later than scheduled, the Toyota emerged from the blackened water victorious to the scream of hundreds of excited Northern Territorians.
"It was wild," Lawrence said, after he watched the final moments from an adjacent boat.
"It drove to the horizon, and there was a giant party and disco on the beach … thousands chanting, all holding their phones lit up…


More information can be found here