A dirt bike rider is wanted in Bensalem, Pennsylvania, after authorities say the suspect targeted a 64-year-old man, striking him once before running the victim over a second time on Saturday.
The victim was walking in the 1600 block of Neshaminy Valley Drive around 7:50 p.m. when the rider on the illegal dirt bike "intentionally" hit him, the Bensalem Police Department said.
The 64-year-old was knocked to the ground, and the dirt bike rode over him a second time, causing substantial injuries to his extremities and internal organs, according to police.
First responders rushed the victim to Jefferson-Torresdale Hospital, where he is currently listed in serious but stable condition.
PENNSYLVANIA MAN BIT IN HEAD BY BEAR RECOUNTS TERRIFYING ATTACK: IT 'BLINDSIDED' ME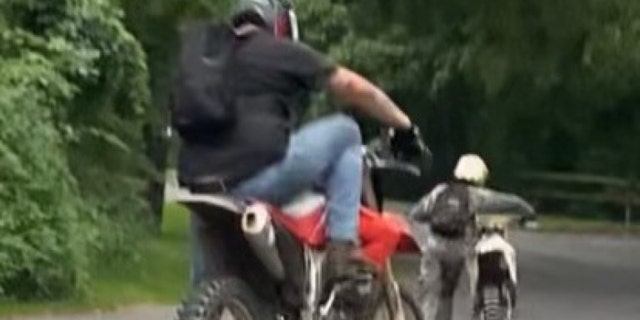 Few details about the suspect were known. Police released a photo of the suspect appearing to ride away from the scene.
Police said the suspect was a male wearing a helmet, camouflage shirt and pants. The dirt bike was green and white.