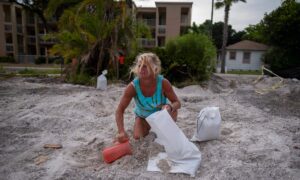 Florida residents are taking precautions. As Hurricane Ian approaches, forecasters predict that it could become a Category Four Hurricane.
A SWAT training exercise in Chicago turns into a live-fire scenario as an uninvited suspect enters by fire escape.
Russian President Vladimir Putin grants citizenship to Edward Snowden — A man U.S. authorities would like to put on trial for espionage.
This episode covers the following topics:
1. Floridians Prepare for Hurricane Ian
2. Police arrest man who infiltrated SWAT Training
3. Japan Holds Shinzo Abe's Funeral
4. Putin grants Edward Snowden citizenship
5. Long Lines at Russia/Georgia Border
6. Biden Seeks to Crack Down on Hidden 'Junk Fees'
7. Fedex Pilots Picket Wall Street
8. NYC Illegal Immigration Tent City
9. Biogen Inc Settles $900M Lawsuit
10. Cartels driving addiction for profit
11. NASA Crashes 'Dart' Spacecraft
12. Technology-Based Marine System to Protect Whales
13. Grey Seal 'Surrenders' to Police
* Click the "Save" button below the video to access it later on "My List."
Follow EpochTV on Social Media:
Twitter: https://twitter.com/EpochTVus
Rumble: https://rumble.com/c/EpochTV
Truth Social
Gettr: https://gettr.com/user/epochtv
Facebook: https://www.facebook.com/EpochTVus
Gab:


More information can be found here