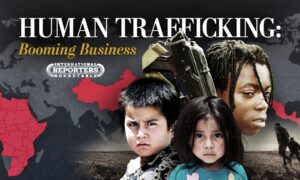 UNICEF reports "human trafficking, modern slavery" is the second largest criminal industry in the world, raking in over $32 billion a year. Hundreds of thousands cross the U.S.-Mexico frontier every year. Children are often left behind, trafficked, or used as drug mules. China is a country where religious minorities are tortured and jailed. Their organs are robbed at a terrifying pace. The original transatlantic slave market is still alive in Africa. There are many businesses that profit from child labor and organ-harvesting, even babies.
It's Human Trafficking Prevention Month in the USA, a country that fought to abolish slavery. What can we do now to stop it NTD host Steve Lance joins Todd Bensman and Kay Rubacek as they discuss this important but often overlooked issue: human rights violations in modern slavery trade.
If there's a child you know who may be at risk, here's a resource to help: The National Center for Missing & Exploited Children.


More information can be found here