Op-ed by Summer Lane | Photo: Alamy
This week, President Trump addressed swirling narratives amid conservative and liberal critics of Joe Biden, arguing that Biden was not too old but rather "too incompetent" to lead the country.

On Thursday, Trump wrote on Truth Social, "A poll just came out showing that almost everyone thinks Crooked Joe Biden is too old, but they don't think I'm too old (and I'm not!). Actually, Crooked Joe is not too old, he's too incompetent, and the WORST PRESIDENT IN THE HISTORY OF THE UNITED STATES. MAKE AMERICA GREAT AGAIN!"
A late August poll from AP-NORC found that 77 percent of Americans see Joe Biden as too old to lead the country. Along party lines, 89 percent of Republicans agreed with this sentiment, while 69 percent of Democrats additionally agreed.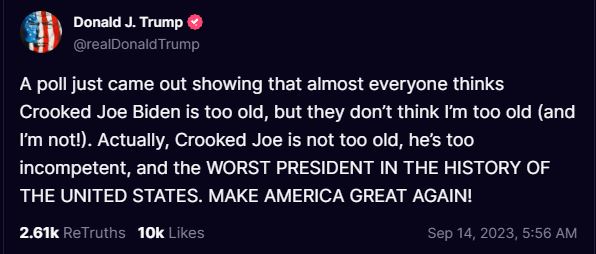 While Biden's age may be a factor for some, it is his often-observable confusion and speculated cognitive decline that concerns many Americans. For example, on Monday, Biden made some eyebrow-raising comments when he commemorated the 22nd anniversary of the Sept. 11, 2001, terrorist attacks that took place in New York.
He claimed during his speech, delivered in Alaska, that he had been at Ground Zero on Sept. 12, 2001, despite no evidence to back up this claim. In fact, Biden gave a speech in the U.S….


More information can be found here