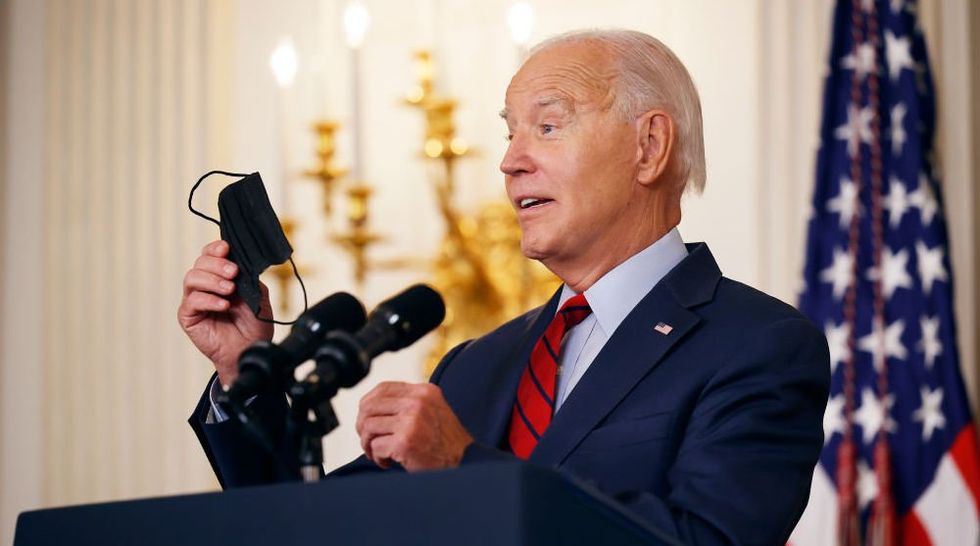 President Joe Biden joked on Wednesday about skirting CDC guidelines on wearing a mask after being exposed to COVID-19.
On Monday, the White House announced that first lady Jill Biden had tested positive for COVID-19. The president, however, tested negative.
That meant Biden could continue his daily work, but he would have to mask up when indoors and around other people in compliance with CDC guidance for people exposed to COVID-19, which states:
Wear a high-quality mask or respirator (e.g., N95) any time you are around others inside your home or indoors in public.
But Biden is clearly not interested in abiding by that guidance.
While walking into the State Dining Room to discuss a new contract between the International Longshore and Warehouse Union and the Pacific Maritime Association, Biden carried a black face mask in his hand before stepping up to the lectern and cracking a joke about not wearing it.
"Hello, everybody. Let me explain to the press: I've been tested again today. I'm clear across the board, but they keep telling me, because this has to be 10 days or something, I got to keep wearing it," Biden said.
"But don't tell them I didn't have it on when I walked in," he quipped.
Whether masks protect against COVID-19 and other respiratory illnesses is debated. While health authorities assert they do, a


More information can be found here