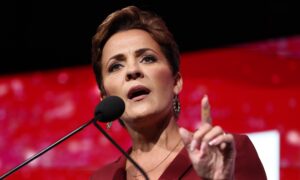 Republican gubernatorial candidate Kari Lake said she is "seriously" considering running for Senate in Arizona after seeing the polling results.
When commentator Charlie Kirk asked about a possible Senate run, Lake said she is still focusing on her election-related lawsuit. Last week, the Arizona state Supreme Court took up portions of her suit.
"I don't know politically what I will do next. I never had any desire to get into politics, and the people of Arizona recruited me to run for governor, and we have led an amazing movement of We The People," Lake said in response.
"It is something I will seriously consider," added Lake, a former local news anchor President Donald Trump endorsed. "I've looked at a lot of polling, probably five polls showing that I can not only win handily in a primary, but I can go on to win the entire race for Senate."
The Senate seat currently held by Sen. Kyrsten Sinema (I-Ariz.) is up for grabs in 2024. Sinema, a former Democrat who became an independent last year, will also face a challenge from Rep. Ruben Gallego (D-Ariz.) after he declares his candidacy for the Senate next year.
In her interview with Kirk, Lake sharply criticized Gallego and Sinema, accusing both of capitulating to the far left. Lake suggested that polling shows she would perform…


More information can be found here