House Speaker Kevin McCarthy officially opened the 118th Congress early Saturday morning, holding the speaker's gavel and conducting a chamber-wide swearing-in ceremony for new members.
After a dramatic week, he won over 20 Republicans who had initially opposed his speakership and then defected to other members.
McCarthy celebrated his victory in the final 15th vote. He said: "I hope one thing is crystal clear after this week: My determination to never give up." I will not give up on you, American citizens. I will not give up on our Commitment To America."
In his opening remarks, he stated that "Our nation is worth fighting to defend."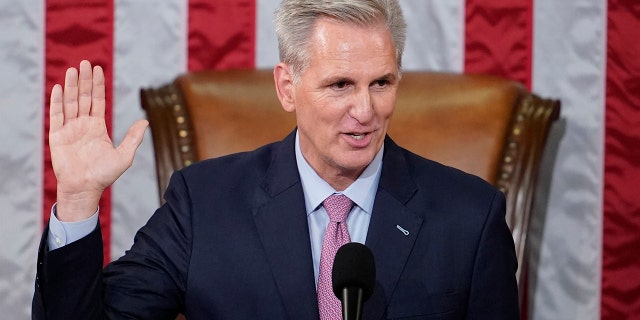 MIKE ROGERS LUNGES AT MATT GAETZ DURING HOUSE SPAKER VOTING. OTHER MEMBERS FORCED to INTERVENE: VIDEO
McCarthy, upon accepting the office of Speaker of House, thanked his fellow members and shared his vision for unifying the legislative body.
"You know – my father always told me: It's not…