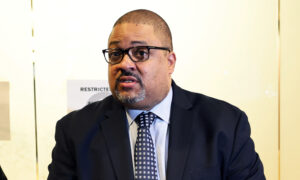 Manhattan District Attorney Alvin Bragg's office fired back on March 31 at House GOP committee chairmen over their two letters to him regarding his investigation of former President Donald Trump.
A New York grand jury voted to indict Trump on March 30 over his alleged role in the payment of hush money to adult film actress Stormy Daniels during the final weeks of the 2016 presidential campaign. With this prosecution, Trump became the first former president in history to be indicted.
The letters to Bragg were written by House Judiciary Chairman Jim Jordan (R-Ohio), House Oversight Chairman James Comer (R-Ky.), and House Administration Chairman Bryan Steil (R-Wis.).
The first, on March 20, requested his testimony in addition to documents and communications—from Jan. 1, 2017, to the present—related to the DA's then-investigation of Trump. It also requested "all documents and communications referring or relating to the New York County District Attorney Office's receipt and use of federal funds."
The House chairmen called the then-expected indictment "an unprecedented abuse of prosecutorial authority." They warned that Bragg's "actions will erode confidence in the evenhanded application of justice and unalterably interfere in the course of the 2024 presidential election."
In…


More information can be found here