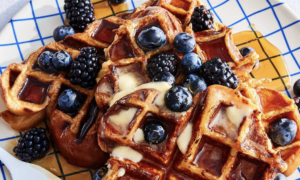 Nine out of ten days I've got milk, bread, and eggs in my kitchen, and lucky for me, this recipe, which combines two breakfast favorites, is one of my kids' most requested.
Their idea of the perfect breakfast is two pieces of this waffle French toast, a handful of fresh strawberries, and maple syrup or fresh whipped cream on top.
Just place the soaked bread inside the waffle iron to make the puffiest maple-soaked bread you've ever tasted and plenty of grooves to catch whatever you pour or place on top.
Prep Time: 10 minutes
Cook Time: 5 minutes
Serves 4
4 large eggs
1/2 cup whole milk or heavy cream
2 tablespoons maple syrup
1/2 teaspoon vanilla extract
1 teaspoon ground cinnamon
Pinch kosher salt
8 slices bread of choice (challah, sandwich, cinnamon raisin, Texas toast, and brioche are my go-tos)
Butter, for brushing the waffle iron
Toppings: fresh raspberries, blueberries, strawberries, or blackberries; whipped cream; maple syrup; chocolate chips
Preheat the waffle iron.
Whisk the eggs in a large shallow bowl. Whisk in the milk, maple syrup, vanilla, cinnamon, and salt to combine.
Submerge the slices of bread, one at a time, into the egg mixture for 30 seconds, or until they absorb the mixture.
Place a slice of the bread into the waffle iron and cook for 4 to 5 minutes, or until the bread turns…


More information can be found here