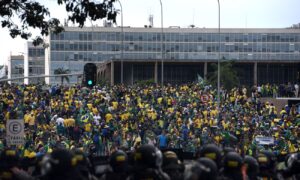 At least 400 were arrested as protesters in Brazil stormed into key government buildings. The unrest occurred just a week after the inauguration of President Lula da Silva.
Biden visited the Southern Border on his way to Mexico. Texas Governor Greg Abbott personally delivers a letter with some very harsh words to him.
A new speaker has been appointed to the U.S. House. Kevin McCarthy wields the gavel. But will he be able to unify the GOP? He needs majority support to pass the rules package to govern the house.
This episode covers the following topics:
1. Brazil: Protesters breach Government Buildings
2. Biden visits Southern Border
3. Colorado to Stop Busing Out Illegal Immigrants
4. McCarthy Elected House Speaker
5. Senator Ben Sasse Resigns From Senate
6. California Floods: Record Snowfall and Floods from Storm
7. Teacher shot by child is in stable condition
8. Taiwan Condemns China for Latest Combat Drills
9. Chinese Tracking Device Found in UK Gov't Vehicle
10. Avalanche Kills 2 in Colorado
11. NYC Nurses Strike Today
12. Goldman Sachs to Displace Thousands
13. Shen Yun is a Spiritual Travel Says Norfolk Audience


More information can be found here