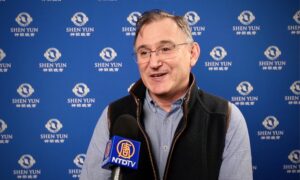 EDINBURGH, UK—The Chinese know what it is like to have no freedom of expression, but audiences around the world say that, thankfully, Shen Yun Performing Arts is letting the world know what China could be without communism.
"What's now happening in China, there's a lot of people who aren't very happy about that but they can't express themselves and I think, through what I'm seeing today, I'm seeing them expressing themselves the way a lot of people in China perhaps would like to express themselves," said Lachlan Gunn, a company director, after seeing a performance at the Edinburgh Playhouse on Jan. 12.
Shen Yun, a New York-based company, is unable to perform in China despite all its efforts to share the beauty and culture of Chinese culture with the rest of the world.
"I feel very sad that it can't be seen in mainland China," he said.
"But by doing it this way and by what [Shen Yun is] Doing this today will ensure that more people across the globe hear about it. The wider this message can be pushed in this wonderful way, the better for everybody."
Shen Yun was a Taiwanese-born expat who brought back many good memories for Mr. Gunn.
"At the same time, it's very uplifting. I've seen Chinese dance before, but never this way! It's really inspirational, and I…


More information can be found here