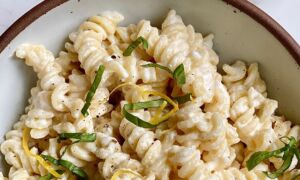 Cottage cheese has been having a moment, but if you're still on the fence about it, this light and impossibly creamy pasta is the best introduction. (And if you already love cottage cheese, this will be right up your alley.) Give the cheese a whirl in the food processor with grated Parmesan, lemon zest and juice, and a couple cloves of garlic. Then toss with short curly pasta, along with a couple of handfuls of baby spinach, arugula, or peas if you like, for a super creamy, quick, and simple dinner that's big on flavor.
The Best Pasta for Cottage Cheese Pasta
Save the long strands for bucatini or spaghetti for cacio e pepe or meat sauce, and instead grab a package of short-cut pasta for this recipe. I love how this thick, creamy sauce collects in the nooks and corkscrews of shapes like fusilli and cavatappi.
The Most Important Step for the Best Cottage Cheese Pasta
Here, I rely on the food processor to whip the cottage cheese. This helps transform all those chunky curds into an airy, smooth, thick, and creamy sauce. Plus, it helps seamlessly blend in the lemon zest and juice, Parmesan cheese, garlic, salt and pepper.
Another important component that makes the sauce is pasta water. After the pasta is cooked and drained, return it to the empty pot, set it over low heat, and add the whipped cottage…


More information can be found here