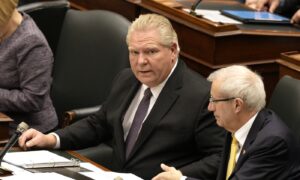 Ontario Premier Doug Ford has vowed to fight Toronto's plan to decriminalize hard drugs, calling it an "absolute disaster" for the city.
"Craziest thing I've ever heard," Mr. Ford said. "Go out to Vancouver, go out to San Francisco."
"I will do everything I can to fight this," stated the premier. "Again, this goes up to the federal government. They cannot be following up with [this] request," the premier said on July 14 while appearing on 640 Toronto, a radio show with Alex Pierson.
It would be "an absolute disaster for our city," he added.
In January 2022, Toronto Public Health made a request to the federal government to decriminalize possession of hard drugs for personal use, and in March, amended the request to cover all substances and ages, including youth. Toronto is asking Ottawa to grant an even broader exemption than what was given to British Columbia, under which the province decriminalized small amounts (2.5 grams) of certain illegal drugs for personal use for adults on Jan. 31 of this year.
Medical Officer of Health Dr. Eileen de Villa said the submission was a "made-in-Toronto" model.
"We're talking about a matter of health and a matter of human rights, not one that really is meant to be addressed or is best addressed with a criminal justice…


More information can be found here