Alamy
President Trump paid tribute to slain teenager Cayler Ellingson during Friday night's Save America rally, in Wilmington, North Carolina, calling him a "handsome" young man who was killed simply for being a Republican.
"18 years old, was targeted and killed, run down in cold blood with an SUV by a radical left maniac," Trump said. Referring to the killer, Trump added, "He was a radical left stupid person."
Cayler Ellingson, an 18-year old Republican, was killed by a man driving a car. According to The Post Millennial's report, Shannon Brandt, the murderer, had a disagreement with the young conservative and drove into the teen with his car.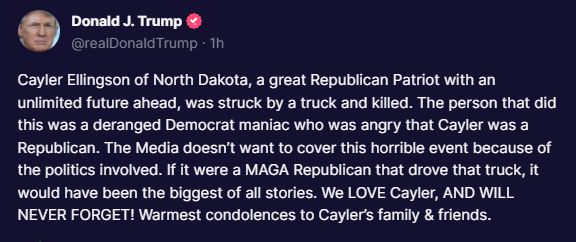 "And this guy ran him down," Trump told the crowd. "And not one mainstream media network has even mentioned this horrible crime – think of it…supposing a MAGA person ran down somebody on the other side? It'd be the biggest story you've ever seen."
Trump pointed to the media cameras and called them out: "It's a disgrace – you people should be ashamed of yourselves."
He added, "And our hearts go out to the parents and the friends."
Trump began his remarks in Wilmington Friday with a statement


More information can be found here