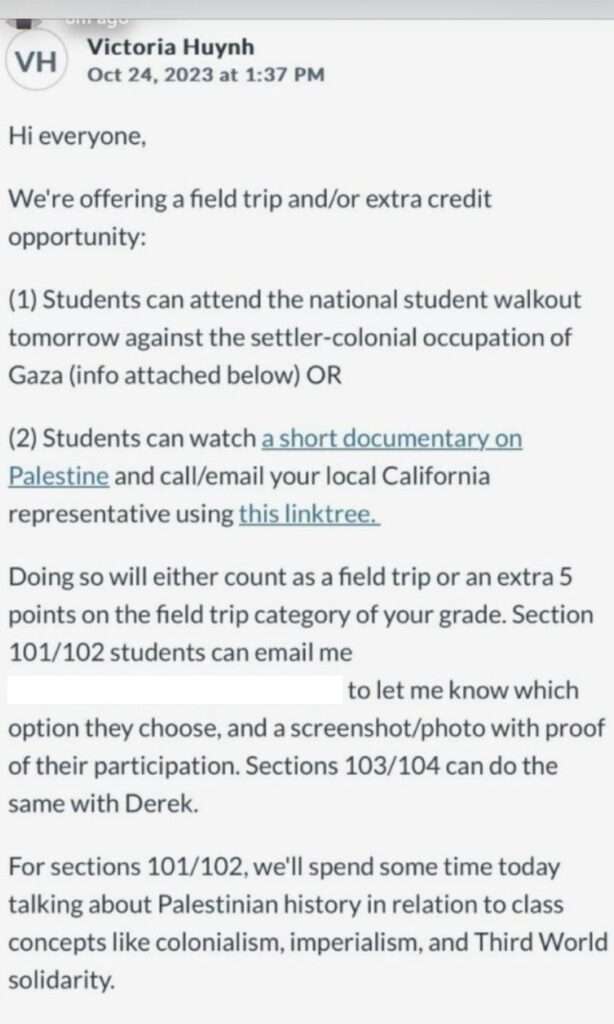 Newsweek (Matthew Impelli) reported today on this incident, which involved "a graduate student" instructor "at UC Berkeley's Department of Ethnic Studies." (The story may have been first broken by Israelly Cool [David Lange].) Fortunately, UC Berkeley promptly rejected this; when I e-mailed the media relations office, I was informed that:
As soon as the administration was made aware of the assignment it moved quickly to ensure that it would be changed. The situation has been remedied, the assignment has been changed and there are now a number of options for extra credit, not just one. Students can now attend any local event they wish—such as a book talk or a panel discussion—-related to the course's subject, including the protest…or they can watch any documentary they wish about the Middle East.
The Berkeley provost's office has also just sent out this follow-up, apparently to "all faculty, staff, and students":
I write to remind people of University policy as pertains to academic freedom and political advocacy in the classroom. While instructors enjoy considerable freedom and all individuals, when acting as private citizens, enjoy free speech rights, University policy does impose limits on using the classroom or one's course for purposes of political advocacy.
I call your immediate attention to


More information can be found here