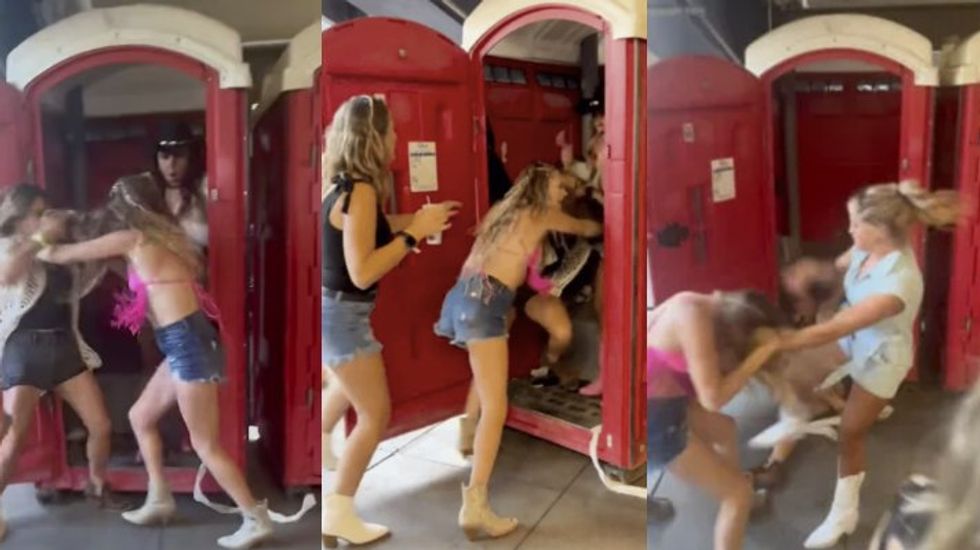 Viral video caught the moment that several women engaged in a vicious catfight in and around porta-potties at a Morgan Wallen concert in Pittsburgh, Pennsylvania.
Multiple female country music fans were in line to use the porta-potties during Wednesday's Morgan Wallen concert.
A woman gets in the face of another female concertgoer and screams, "F*** you. You do not cut in front of me!"
The two women exchange shoves, and a woman violently pushes another woman into the open door of a portable toilet that a surprised woman was about to exit. The brouhaha escalates inside the porta-potty. A concerned onlooker gives her drink to a friend to hold and then attempts to break up the fight.
A fourth woman wearing a blue romper and white cowboy boots marches into the porta-potty and forcefully drags out a woman by pulling her hair while punching her in the head at the same time. Then the woman in the blue romper punches and kicks the woman who initially attempted to break up the fight. Then the peacemaker is thrown to the pavement by the woman who was originally involved in the brawl.
The women involved in the nasty catfight dispersed before police arrived, and no arrests were made.
A spokesperson for Pittsburgh's Department of Public Safety told Billboard that there were "plenty of ejections for intoxication," but…


More information can be found here