"There's a tremendous injustice happening in the Beetaloo basin," says native title lawyer Dominic Beckett. "The genuine voices of concern, fear and opposition are not being effectively represented or heard by the people whose job it is to do that."
Last month, the Northern Territory government gave the green light for gas production to begin in the basin, a region between Katherine and Tennant Creek that contains vast reserves of shale gas.
Scientists have warned the planned massive expansion of hydraulic fracturing – or fracking – for gas in the Beetaloo basin will have an unacceptable impact on the climate.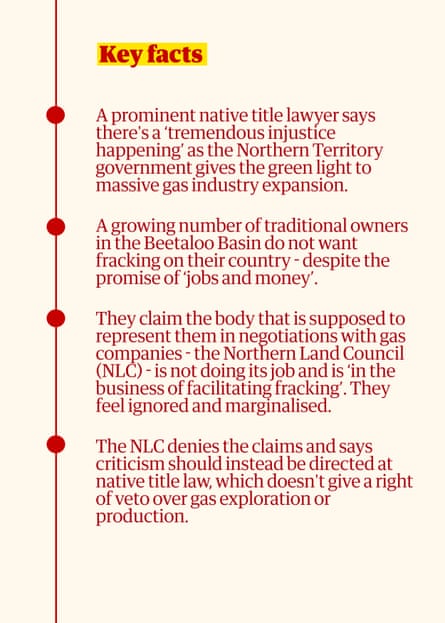 But on the ground there is another battle playing out.
Beckett has spent more than two decades working in native title, including a period at the Northern Land Council (NLC). But he now believes the land council is not effectively doing its job as a representative for traditional owners in negotiations with gas companies.
"So many of the people up there are opposed, are fearful, about contemporary fracking practices on their land and the scale of operations. That's very clear from the time I've spent up there," he says.
The NLC's role is to help Aboriginal people in the northern half of the Northern Territory acquire and manage their traditional lands and seas. It's a commonwealth-funded statutory authority that traces its…


More information can be found here